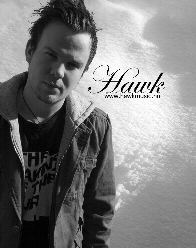 Hawk, how do you doin? Did you get over the flu well?
Hi mate! I´m doing very well thanks. Oh yes, the FLUE! I get that every winter, next year i will get one of those shots the old people get, hehe. I hate being sick, but it was only for a week, and i´m fine now. I did get some time to produce while i was sick though.
Your first release was in November 2005 on the Anjunabeats label "Anjunadeep". On that label you released the progressive trance track "Need For Cognition". Describe your feeling to see many big DJs playing your production, did you count on as so much positive feedback?
I did not expect to get that much great feedback, no. At least not while i was producing the track. Just that Anjuna signed the track was a big surprise to me back then. I didn´t realize that I actually would have a release on such a big label until i had the vinyl in my hands. The support of the track was enormous as well: Armin, Tall Paul, Above & Beyond, Andy Moor, Schultz, Jon O´Bir, and maaaany more. You get a special feeling when you know so many people have heard your track all around the world, and that the "big guys" actually like a track that you´ve made u know. But i must say that I have a great label, and they put in a lot of effort to promote me as an artist, they´re doing a great work over at the Anjuna HQ.
Where did you get your influences and inspirations from to make a track?
The inspiration can come from whatever or where ever. I´m not really sure where i get the ideas from. Sometimes i get ideas after going to a club, relaxing with my girlfriend, traveling, or just listen to other tracks. There are many producers who have influenced my style. Back in the days Orbital, Astral Projection, Prodigy, Underworld and Chemical Brothers influenced me a lot. These days i really enjoy the sounds from BT, Mark Otten and Andy Moor. I do not try to copy their style or tracks or whatever, but the overall quality of their tracks are really something to admire.
How long takes it to make a hawk production?
3 days, 17 hours and 21 minutes. No, seriously, it´s never the same. Some tracks i make in two or three days, but usually it takes around a week or two. Then after that i try the tune in some sets, and bring them back into the studio to some adjustments, or re-edit pieces.
Tell a little bit about your track "Cantus" - is it only a digital release or we get the chance to buy it also as vinyl?
So far it´s only a digital release. It´s out on Real Music Records now, and Armin, Oakenfold and Schulz have been hammering that one. I would love to get it released as a vinyl, and if any others wants it on their decks then send a mail to the record company! hehe
Your forthcoming release is "Space Between", when is release date and who makes a remix of this?
The releasedate are early March. If i´m not wrong, you can already get hold of the promo at Audiojelly. As we speak the track are being promoted by Active Records, so watch out for it in a club near you, hehe. Oh yeah, and the remixes: Nick Thompson have done a really great remix with massive percussion, and that one are already greatly received among people. The not so infamous Kenneth Thomas have also done a nice more of a progressive remix.
Can you report to our audience perhaps also of other exciting releases?
As for my own productions, i am now finishing my first EP under my "Hawk" alias (that will be a big one! I hope). Another one to watch out for are my "Air Breeze" project. That´s a new alias i will use for more trancy tunes, and i have already played the first production in a couple of my sets and radioshows. Other than that i have some plans for a vocal track and much more, but i don´t want to reveal everything yet.
May we expect interesting remixes of you for the future?
Ah yes, i´ve been really busy in the studio remixing lately. I remixed "Mark Otten – So Serene" just for fun, but it looks like that one will be released digitally on Armind very soon. My remix of "Bakke & Ljungqvist – Bali" are going to be released on Enhanced Progressive this month as well.
Since when are you an electronic music lover?
Hmm… that´s a hard one, cause i´ve always enjoyed the sounds from synths and computers. i remember when I was 6-7 years old and were playing around on my Amiga with my sister. Already back then the basic "tracker-programs" amazed me. Though i guess i totally fell in love with the electronic music when i heard Orbital – Lush 3.1 back in 1994.
How would you describe your sound?
Luscious melodies with a deep bassline, which makes it work both in clubs, and in your headphones.
You have your own studio in Oslo, what`s your favourite studio setup, hardware or software?
For many years i was a hardware-geek. I tried to use software as little as possible, and used all my money on synths and other hardware stuff. But in the last two years or so, i have almost only used software. I guess that´s the evolutuon in producing: it all goes over to software. Some stick to hardware, but for me the software are exactly what suits my needs.
On your website i read that you care a Axel Rose leather-jacket in your school period, in believing that you are the next rock-superstar – what are the reasons for electronic music to get your attention?
Haha, oh no. That jacket are haunting me! Everyone brings that subject up. But yeah, when i was around 8 years old i loved Guns´N´Roses, but mostly just because my older sister liked them. i played the guitar and even performed "Knocking on a heavens door" for over 500 people! How embarrassing, hehe.
The electronic music got my attention because of the melodies and the possibilities. What can´t you do with electronic music?
You can combine it with any genre you want, and still make it cool! For me it´s a lot about the melodies though. You can create unique atmospheres with melodies, and bring up feelings to the listener.
But you are not only a producer/remixer, the people can also see you as a DJ, what makes more fun – producing or dj-ing?
That´s right. i´ve actually been a dj longer than a producer. Hard one to choose between that, cause i love doing both so much! To play in a club and make the crowd go mad with a track that you have produced are a special feeling. i can´t choose mate, too hard!
There are differences between your productions and dj-ing or what kind of music can people expect in your sets?
I usually spin as the same style I produce, but it all depends on the crowd. Sometimes i can put on some more trancey tunes, sometimes deep progressive ones. It´s all about reading the crowd you know. I would not say that I play trance, neither progressive: i try to cross the boarders between those two genres.
You have 2 resident jobs on ETN.fm (check Hawk`s agenda on his website), any other nice events/parties scheduled yet?
(Right now I only have one on ETN) Yeah, there are a couple of things happening these days. Looks like I will have a radio show on a major US radio station, but i can´t reveal too much about that yet. There will be some international gigs in 2006 as well, but most of them are unconfirmed so far.
Which music prefer you to except for electronic music?
I listen a lot to other kinds of music. Everything with a special sound gets my attention. Mew, Kent, Coldplay, The Mars Volta are some examples of what´s on my iPod.
What did you plan otherwise still for the year 2006?
I will keep on studying Marketing for sure, and i have also bought my first apartment! Apartments are really expensive in Norway so i hope my releases go well, hehe. Music will play an important role for me, and it will probably not be the last time you´ll hear the name "Hawk," "HKN" or "Air Breeze" this year.
Finally, a personal question: what makes the move in your first appartment? ;-)
I decided to buy my own apartment cause i didn´t want to pay a rent any more. Just economically better for me. The first thing to MOVE into my apartment will be the bed, and my girlfriend… You get what i am saying? Haha.
Yes then keep it all alright. Thank you very much for your detailed interview and good luck and success for 2006!
I´ve to say thank you and wish many output for your and your radio.
Links:
www.hawkmusic.nu
www.myspace.com/hakonlofthus/
www.anjunadeep.com
www.realmusicrecordings.com