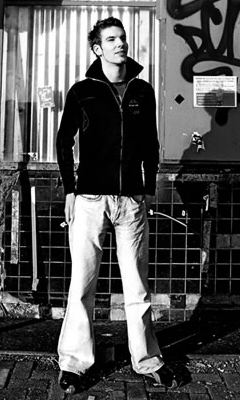 Hey Eelke, how are you doing? At first we`ll thank you for the possibility to hear an exclusive guest mix from you for 'Tranceparency'. What can we except?
Hi, I'm well thanks! The mix is a bit funky with some deeper tracks as well as more 80s influenced stuff which I really like right now.
You`re one of the producers of, let`s call it, a new generation beside guys like Joni Ljungqvist, Terje Bakke, Tyler Michaud, just to name a few. You started producing in the age of 17 and released a really high amount of tracks up to now. What are your plans for the future?
Well I recently launched a record label called Outside the Box Music which I plan to do a lot with. The first release is getting good support from Hernan Cattaneo, Fish Go Deep, Piece Process, Chloe Harris, etc. Currently we're releasing music digitally, but I'm aiming to go for vinyl / CD as long as the market allows it. It would be cool to do some compilations on the label as well in the future. Also DJ wise I hope to play out some more. I recently played in Jordan, Lebanon, Serbia, Greece and a couple of other countries and those were great experiences.
What do you want to achieve with your music and your sound? How would you describe your sound?
I think my sound right now is really broad, hard to define as one style. My sets usually range from minimal and deep / tech house to progressive and breakbeat. Practically everything I like. This is also what I like to do with my productions. I've recently produced an EP for Baroque which is very 80s like, melodic and happy. But I'm also producing minimal house with Nick Hogendoorn to showcase the different sounds of what I'm into.
You teamed up with a lot other producers like C-Jay or Stewart Kennan. How you got into contact with these guys and when you decided to work together?
C-Jay is a Dutch guy as well, we we're introduced to each other by a friend of ours. We spent some time in the studio together and worked on each other's unfinished productions a bit, that turned out really well. Stewart Keenan I got in contact with through Lost Language, he approached me after I had released an EP there. We could get along pretty well and decided to try and do some stuff together here in Holland and back at his place in England.
How is the proceed when you cooperate with other producers? Are there strict guidelines what you do and what the other one does?
Not really, it always depends on what the other producer is into. I'm really a control freak myself so in 95% of my co operations you'll find me behind the controls. On the other hand someone else could be working on melodies at that time. It always evens out in the end.
From which things you obtain inspiration?
Can be a lot of different things, usually it's just listening to different kind of music. I like to listen to hip hop and ambient a lot and sometimes draw inspiration from there. Classical music as well. Inspiration can also come from going out a night and hearing some tracks on a loud sound system completely blowing you away. In that case you've usually forgotten about it the next morning though ;)
Are you doing something beside producing or deejaying or is this your full-time-job?
It's my full time job but I'm also a 3rd year Psychology student. I'm spending more time on music though so it might take me a bit of time to get through that, but I definitely plan on finishing it in the next couple of years.
Is it your job you ever dreamed of?
Actually I always thought I would end up in computers somehow. Until I was about 15, 16 I figured I'd become some kind of nerdy programmer. That was my main interest back then. I slowly started to enjoy house music more though, and around my 18th I was pretty sure that was the best thing for me.
What are you listen to when beside electronic music?
Hip hop (Missy Elliot, Wu Tang, Nas), Jazz, some rock but not the harder stuff, classical music, and some of the better top 40 artists like Justin Timberlake, Dido, Enya, etc.
Your favourite tracks these days?
In any order:
Elite Force - Heart of Darkness (Elite Force Re-Rub)
Chadwick Strange - Conductive (Recursive Remix)
Wally Lopez, Rene Amesz & Peter Gelderblom - Strike me Down
Spirit Catcher – Spacialized
Soda Inc. – Falling feat. Trixx Anthony
Well Eelke, thanks for this little interview. I hope we hear from you soon. We wish you all the best.