Statistics






Artist Forecast
Agenda
Details

Last Updated on Tuesday, 04 February 2014 19:40
We're proud to finally present the international interface of GlobalBeats FM and we're glad you found here. Of course we're still working on our english version to make you feel even more comfortable. There will be more and more exciting news and polls by and by, for instance. Besides tuning in, at the moment you're already able to read some interesting interviews with DJs who recently played on GlobalBeats FM and to join our international community by using the quick link on the right hand side. If you want to leave us a short comment please use our shoutbox or our Myspace profile. If you are interested in working together with GlobalBeats FM please click on submissions or use our forum.
Details

Last Updated on Saturday, 13 December 2014 10:55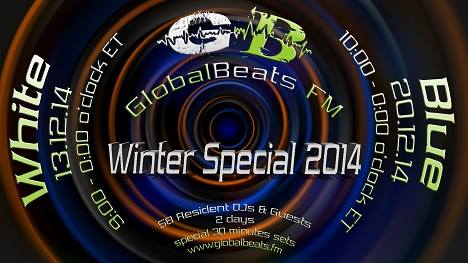 Again a year is drawing to an end and you are still holding faith with GlobalBeats FM.
Retrospective we have to notice that we had a lot of musical progress and rebirth.Scene is splitted by EDM, Tech House and Deep House are celebrating a supernatural popularity and festivals on daytime. Techno is giving us many long nights and Trance music is our brave and honest opposite. Even a new festival with melodic sound was born and some of our residents hat their gigs there. The Legendary Festival Vol. 1 was a big success.

GlobalBeats FM wants to say thank you to all listeners, friends and fans. Without you our work doesn't have any sense, without you there wouldn't be any mood to make the next radio show better as the last one. Without you we wouldn't try to improve our possibilities. A base for DJs and it doesn't matter if young or old, hobby or job, Germany or from another place of earth. Further on we'd like to promise you to take seriously Global Beats FM in 2015 as well and want to show you that again with our Winter Special.
Entertainment for you and our radio is still very important for us and and our work comes from the heart. So just listen to our present for you on 2 Saturdays in succession! Every DJ - resident, ex-resident or guest – will give you a day as unvorgettable as possible! 
Yours team of GlobalBeats FM!


White Channel 13.12.14 11:00 – 0:00 Uhr MEZ

11:00 CK 7 I (DE) 
11:30 DJ Tesla (DE) 
12:00 Ross Hopkins (AUS) 
12:30 The Mad Docc (DE) 
13:00 2hoch2 (DE) 
13:30 DJ RiSo (DE) 
14:00 Darthii (DE) 
14:30 RAABBAZZ (DE) 
15:00 Eduard Aldente (DE) 
15:30 Misuri (DE) 
16:00 Meloliyah (DE) 
16:30 Mathes (DE) 
17:00 djane djumelle (DE) 
17:30 Moderntronica (DE) 
18:00 Sourci (DE) 
18:30 Djane Maya (DE) 
19:00 xxxHERBxxx (DE) 
19:30 O-HI-O (DE) 
20:00 Kai Pattenberg (DE) 
20:30 Karli Kugelblitz (DE) 
21:00 Johann van Mercey (DE) 
21:30 Izinger (DE) 
22:00 Gabriel Shear (DE) 
22:30 Markus Beats (DE) 
23:00 Oliver Kohr (DE)
23:30 Djane B@d-Kitten (DE)

Blue Channel 20.12.14 10:00 – 0:00 Uhr MEZ

A.M.A.N. (DE)
DJ NordLicht (DE)
Mathes (DE)
DJane B@d-Kitten (DE)
Refr3sh (DE)
Jefferson Eight (DE)
Thelor (DE)
DJ Exception (DE)
Cyre (DE)
DJ Mystic (DE)
Andy Baxter (DE)
Screaming Monkey (DE)
RiSo (DE)
Christian K. (DE)
C-Mo (DE)
DJ Zombie FX 3 (DE)
Tom J (DE)
Angel (DE)
Opt-In (DE)
Crasherkid (DE)
Tobaja (DE)
DJ robi-E (DE)
DJ Eternity & Vince T Projekt (DE)
Johann van Mercey (DE)
Sourci (DE)
SilverSurfer (DE)
xxxHERBxxx (DE)
DJ Syber AX (DE)