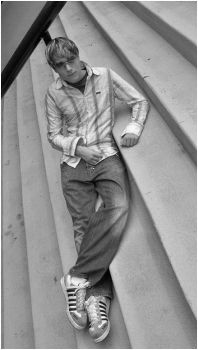 Hi Tyler, how are you? You`ll be doing a one hour mix on globalbeats.fm next Tuesday. What can we expect?
Hey everyone! I'm doing great. I'm excited to be doing this mix and interview and you can expect a little bit of everything out of my mix set! Listeners will hear a bit of progressive, some groovy electro house beats, and even a touch of trance. My DJ'ing and production style is one that is without a genre and I hope the listeners like it!
Actually 'Interstate – Remember me' with a remix by Shawn Mitiska & yourself was released on Coldharbour Recordings and on ArminD. How are you feeling about it?
I'm very, very satisfied with how the remix came out. It is definitely one of my most professional sounding productions to date and being that it was released on both Coldharbour & ArminD was a surprise that I could've never expected!
How many tracks have you released up to now?
I currently have 4 original tracks/collaborations released, and 2 remixes.


You`ve sent me a sample of a track you`re working on which sounded really nice. Did you finish some new tracks?
Yes, I actually just finished a new track today. It is my first solo production entitled 'Tyler Michaud – White Widow' and I am very pleased and excited with it! Other than that, my only other finished track that's awaiting release is my tune with Canadian producer 'Sunquest' entitled 'Northern Comfort – Don't Look Back'. It is scheduled for a release on vinyl and digital formats in March 2006 with remixes from Genix and Michael Splint.
Is it already signed to a label?
No. My track White Widow is currently unsigned. It was just completed and I have sent it out to one label in particular. Keep watching for updated news on the track! As for my track under my "Northern Comfort" alias, that is signed to the 'Real Music' label.
When did you start DJ'ing/producing your own music? Are you playing some instruments?
I started producing and Dj'ing about 4 or 5 years ago when I was very young. I had immediately fallen in love with EDM and knew it was what I wanted to do. I had first started off with Fruity Loops and a pair of Stanton turntables and over the years I have been able to fund what is now a very nice studio-styled setup! I started off with no knowledge of any instrument, and picked up little things here and there on the keyboard as I went along. I did have half a semester of music theory though, which taught me a lot about classical composition and what sounds go good together. On the professional side of things, I have been producing seriously and concentrating fully on the music for about 6 months to a year.
Are you using hardware or software?
Right now my productions are mostly all software using the program Logic 7. I used to have a Roland JP8000 synthesizer but sold it. I think nowadays software and VST plug-ins have the capability of being able to emulate real hardware synthesizers pretty well, so on my budget software is easily the best answer.
You`re djing on one of the biggest online radios worldwide ETN.FM. Could you please describe the sound you play.
The sound I play is hard to describe… But if I were to put a name to it I'd have to say it's………… Melodic-progressive-bass-driven-tech-house. ;-)
You're really young. What are you doing beside the music?
A lot of people ask me this question, and I feel privileged to be able to say that right now music is my complete focus. Now that I'm finished high school I have roughly until next September before college classes start up. I don't have many expenses so I'm able to focus strictly on my musical career without having a 'real job'. This year is really going to be a test for me though. Do I stay with just Electronic Music, or do I want to go to college and pursue a career in something else…? …I guess that's a question that only time will be able to tell.
There are a lot of young producers that are rising up at the moment. What do you think about the new generation of DJs and producers?
I think the new generation of DJ's and Producers is great. A lot of new talent is coming from all parts of the world, and it seems as if the people putting out quality music are getting younger and younger! It just proves how big EDM is becoming and I'm very glad to be able to contribute!
Internet is very useful to get into contact to other artists. I guess you think in the same way...
Yes, very much so! Being that I've only been able to access clubs recently because of my age, the Internet has become my main method of getting my productions signed, recognized, and distributed properly. I believe that the world of EDM is forever evolving, and that the people involved in the technology and the online music communities are ahead of the game!
Globalbeats.fm exists now for over a year. It is more and more established and international DJs did some exclusive guest mixes up to now. Do you think this is a good concept to present electronical music in all of its forms?
Yes! I can't stress the importance variety enough! I'm a lover of dance music in all forms, whether it is Chillout/Ambient, or banging Tech-Trance. I think it would be boring to just listen to one style of music all the time, so the concept that Global Beats has is very good!
Thank you giving us the chance to listen to your sound. Thanks for the interview. All the best for your future and I`ll bet that we all will hear from you...